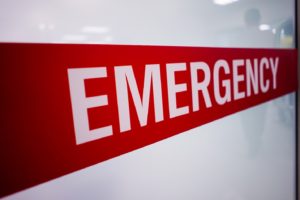 The COVID-19 outbreak has caused many dental offices to temporarily suspend their normal operations. That means that all elective and non-emergency procedures have been postponed until further notice. However, most dentists are still ready and willing to provide emergency care. How can you tell if you should schedule an emergency appointment? In this post, we discuss some indicators that you need professional dental care ASAP.
You Lost a Tooth
If a severe trauma knocks a tooth out of your mouth, contact your dentist immediately. This is one of the most urgent types of dental emergencies. Gently pick up the tooth by its top portion, rinse it off, and try to replace it in its socket. If that is not possible, store it in a glass of milk or water. If you receive treatment within an hour or so of when the tooth got knocked out, it is possible that your dentist will be able to splint it back into place.
Your Teeth Feel Loose
Teeth may become loose due to trauma, but loose teeth can also be an indicator of advanced gum disease. In both scenarios, time is of the essence. Contact your dentist, describe your symptoms in as much detail as you can, and get ready to head to the office for an emergency appointment. Receiving prompt treatment could make the difference between saving your tooth and losing it altogether.
You Are Bleeding Uncontrollably
For serious oral bleeding, you might need to visit the local emergency room for initial care. Afterward, it is important that you follow-up with your dentist. They will assess your oral structures to determine whether your injury will have any long-term consequences for your oral health.
If you get the bleeding under control by yourself with the help of gauze, that does not mean you do not need to see your dentist. They should still take a look at your mouth to determine the true extent of the damage.
You Have a Severe Toothache
A bad toothache is often the sign of a serious infection in a tooth's interior chamber. Left untreated, the infection could spread and damage the surrounding tissues. It could even result in systemic illness. If one of your teeth is in severe pain, looks darker than the teeth around it, or is extremely sensitive to hot and cold temperatures, you should call your dentist immediately. You may need root canal therapy and perhaps antibiotics to fight the infection and save your tooth from extraction.
We have not been able to discuss every type of dental emergency in this article, so if you are ever in doubt as to whether you should call your dentist, go ahead and contact them. They are ready to help!
Meet Our Practice
At New Haven Dental Group in Woodbridge, we are proud to have an expansive team of general dentists and specialists ready to serve our patients. We are quick to respond to emergency cases even though our office is temporarily closed due to the COVID-19 pandemic. If you have questions or concerns about your oral health, contact us right away at 203-389-7080.