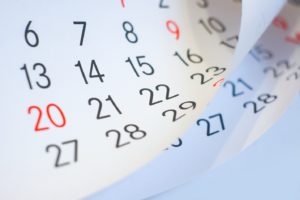 If you are thinking about investing in Invisalign in Woodbridge, it is only natural if you have questions about the treatment journey ahead of you. One of the first things that many patients ask is, "How long does Invisalign take?" The answer to that question varies from patient to patient and depends on the severity of your dental misalignment and your diligence in complying with treatment protocols. In this blog post, we will discuss just how those factors may affect your Invisalign timeline.
Factors that Influence Treatment Time
From start to finish, the average treatment time with is about 12 months long. However, it may take longer if:
Your dental misalignment is moderate to severe. Some issues, like crowded teeth and gapped teeth, typically take longer to correct than others. Whether or not you have a crossbite, underbite, or overbite will also factor into your total treatment duration.
You are older. As we age, the bones that hold our teeth in place tend to become harder and less malleable. Because of this, Invisalign for older individuals tends to take longer than Invisalign for teens and young adults.
On the other hand, your treatment timeline may be shorter than 12 months if your dental misalignment is mild. Some individuals use Invisalign purely for cosmetic reasons; they may just want to straighten one or two of their front teeth. Logically, this takes less time than correcting moderate or severe misalignment. The same idea applies to people who had orthodontic treatment in the past. If your teeth have only drifted slightly out of place following your braces treatment, it might not take a long time for Invisalign to get them back to where they belong.
The Importance of Compliance
The actions that you take every day throughout your treatment period will also affect its overall length. You can avoid unnecessary delays by:
Wearing your aligners 20 – 22 hours each day. This is the minimum amount of time it takes to properly shift the teeth.
Wearing all attachments as instructed.
Striving to take good care of your aligners and being careful not to lose track of any of them.
Keeping your Invisalign checkup appointments with your dentist. These usually take just a few minutes, so most patients are easily able to fit them into their routine.
When you first begin Invisalign, it may seem like you have a long journey ahead of you — but you may be surprised by how quickly the time passes. You could have a remodeled smile before you know it!
Meet the Practice
New Haven Dental Group in Woodbridge features an expansive team of dentists and specialists, all of whom are ready to provide high-quality, friendly care to patients. For individuals with orthodontic needs, we offer both Invisalign and traditional braces. If you would like to find out how long it may take for Invisalign to straighten your teeth, we would be happy to help you during a personalized consultation.Contact our practice at 203-408-6713 to learn more about us and our services.