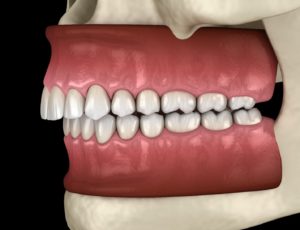 Do you have an overbite, underbite, crossbite, or other type of bite problem? Such issues may make you feel self-conscious due to their effects on your facial aesthetics. They can even pose a threat to your oral health and increase your risk of TMD. What can you do to address these issues and become the owner of a harmonious, well-functioning bite? Invisalign in Woodbridge may be able to help.
How Invisalign Works for Bite Problems
Invisalign works by using a series of clear, custom-made plastic aligners to apply pressure to the teeth. Gradually, that pressure moves the teeth into their proper positions. Invisalign can also help to shift a patient's overall bite alignment.
In order to address bite issues, Invisalign often works alongside attachments or other orthodontic appliances. For example, elastics may be required to correct an overbite. Elastics are small rubber bands that help to train the lower jaw to rest in its proper position. The way they work with Invisalign is very similar to the way they work with traditional metal braces. For more severe cases of overbite, you might need additional treatments or appliances to get your bite aligned.
The process for addressing other types of bite problems can vary. It really depends on the nature of the issue and its severity. Your Invisalign provider will thoroughly assess your teeth and your occlusion (bite) before they recommend a treatment plan.
What to Expect with Treatment
If you plan to use Invisalign to correct your bite, there are a few things you should keep in mind:
You will play a large role in your treatment's ultimate success. It is important that you comply with your dentist's instructions.
It is normal to experience some soreness when you are using Invisalign and its attachments. However, if you experience severe discomfort, you should let your orthodontic care provider know as soon as possible.
After you complete your Invisalign treatment, you will need to use a retainer to maintain your results.
Can Invisalign Correct All Bite Problems?
When Invisalign was first released more than 20 years ago, it was rather limited in what it could accomplish. It was not usually recommended as a treatment for malocclusion (bite problems). However, it has come a long way and is now capable of correcting many types of bite issues.
With that being said, it is important to note that Invisalign is not suited for all patients. Severe bite problems may require traditional orthodontics or even surgery. Your Invisalign provider will let you know which treatment is the best fit for your unique circumstances.
Do you suffer from an overbite or another type of malocclusion? Invisalign may be able to help you achieve a well-aligned smile.
Meet the Practice
New Haven Dental Group in Woodbridge features an expansive team of dentists and specialists. Invisalign and traditional orthodontics are among the many services we offer. If you would like to learn more about how we may be able to help you achieve a harmonious bite, contact our team at 203-408-6713.