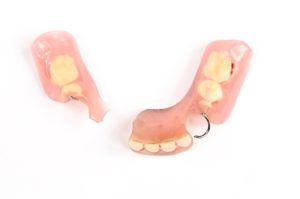 Severe toothaches, knocked-out teeth, and broken teeth all clearly count as dental emergencies. However, you might wonder if a broken denture in Woodbridge also falls into that same category. After all, a denture is not your natural teeth, so you may not be in any pain. While a damaged denture is not as urgent as other types of dental emergencies, it does call for a prompt visit to your dentist. In this article, we will talk about why seeking help as soon as possible after your denture breaks is important.
The Importance of Dentures
Your mouth is the beginning of your digestive system. If you cannot rely on your dentures to help you chew, there may be a wide range of foods that you can no longer consume. You may miss out on key nutrients. You may also experience a degree of embarrassment in social situations if you cannot eat the same foods as everyone else.
Additionally, dentures play a role in pronunciation, helping you to clearly enunciate a wide range of sounds. Without your prosthetic teeth, you might find that your ability to communicate with confidence is diminished.
Should You Try to Repair Your Denture on Your Own?
At your local pharmacy, you might come across some so-called denture repair kits. While it might be tempting to try to repair your prosthetic on your own, it is not advisable to do so. Attempting DIY repairs could actually worsen the damage and compromise your dentist's ability to fix your denture in Woodbridge professionally. Dentures are delicate, and they require an expert touch to get them working again after they incur damage.
What Your Dentist Can Do
Your dentist is eager to help you regain full functionality from your dentures. When you go to their office for your emergency appointment, they will carefully evaluate your prosthetic and come up with a plan. In some cases, it is possible to carry out on-site denture repair. However, if the damage is fairly significant, it might need to be sent to a laboratory. In some cases, the damage is irreparable and it is necessary to replace a broken denture altogether.
Additionally, your dentist might offer some friendly tips on how to prevent your denture from incurring damage again. They might even bring up the possibility of replacing your prosthetic with implant-supported teeth, which have a longer life expectancy and are much more secure in the mouth.
A broken denture is a true dental emergency! Seeking prompt help from your dentist can help you to regain your mouth's functionality and your smile's appearance as soon as possible.
Meet the Practice
New Haven Dental Group in Woodbridge is proud to have six on-staff dentists and specialists. Our team is always ready to help emergency patients, and we are often able to do so on a same-day basis. Traditional dentures and implant-supported dentures are among the many services we offer. If you have questions about how to handle a broken denture or anything else that relates to your oral health, contact us at 203-408-6713.