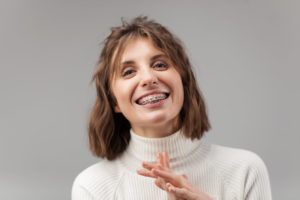 When most people think of braces, they think of teenagers. While it is true that many orthodontic patients are quite young, more and more adults are pursuing treatment to help them achieve a straighter smile. In fact, in 2016, it was estimated that there were over 1.4 million orthodontic patients over age 18 in the United States. Are you thinking about getting braces as an adult in Woodbridge? Here are some key things you should know about the road ahead.
There Is No Need to Be Self-Conscious
Some people hesitate to commit to braces because they do not want to feel like a "metal mouth." It is important to keep in mind, however, that modern braces are more comfortable and discreet than braces of generations past. Plus, because braces are becoming so common among adults, it is unlikely that any of your coworkers will look down on you because of your orthodontic treatment. On the contrary, you might inspire them to take the best possible care of their own teeth.
Of course, if you genuinely dislike the idea of metal braces, you may have other orthodontic options open to you. You might be a candidate for a clear aligners treatment, such as Invisalign.
You Will Improve Your Smile and Your Oral Health
While it is common for individuals to pursue orthodontic treatment because they want a more attractive smile, the health benefits of braces are also significant. By aligning your bite, you can reduce the risk of bruxism (teeth grinding). You may also find that it is easier to keep your teeth clean and thereby experience a lower risk of cavities and gum disease.
Braces May Be More Affordable than You Think
It is common for people to say that orthodontic treatment is expensive, but that is really a matter of perspective. Prices vary between dental offices, and most people are surprised to find out how affordable braces really are. Dentists want to help their patients get the treatment they need, so it is common for them to offer convenient payment arrangements. It is also possible that your insurance will pay for a portion of your treatment, up to the amount of your policy's lifetime orthodontic maximum.
Braces Are Convenient
Braces require that you make some adjustments to your routine. For example, you will have to add a few extra steps to your oral hygiene routine, and you will have to attend a dental appointment every few weeks to get your braces tightened. Most patients find it easy to incorporate caring for their braces into their everyday life.
Orthodontics in Woodbridge can help patients of practically any age! If you are interested in straightening your teeth as an adult, your local dental team is ready to help.
Meet the Practice
Dr. Fred Friedman is the on-staff orthodontist at New Have Dental Group in Woodbridge. He has three decades of experience. He is proud to provide traditional braces, Invisalign, and other treatments for patients of virtually all ages. If you would like to speak to him about your options for straightening your teeth, contact our office at 203-408-6713.