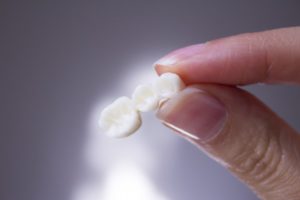 Dental bridges are one of the most durable types of dental restorations. It is common for them to last for well over a decade before replacement becomes necessary. However, some patients find that their bridge falls out before its time. This blog post discusses why that might happen and what you should do if your dental bridge fell out.
Why Might a Bridge Fall Out?
There are a number of reasons why a dental bridge might fall out, including:
Decay. Dental bridges are usually cemented onto the teeth on either side of the location of a missing tooth. These supportive teeth, called abutment teeth, must stay healthy in order to continue supporting the bridge. Unfortunately, bacteria can sometimes sneak beneath a restoration and cause those teeth to decay, which in turn can lead to the bridge falling off.
Other types of damage to the abutment teeth. Over time, the abutment teeth might become too weak to adequately support a bridge. If they are exposed to enough pressure and force, they might even break altogether.
A misaligned bite. A misaligned bite causes the upper and lower teeth to hit one another at odd angles. It might even lead to teeth grinding and clenching. Over time, these factors can damage a bridge or loosen its bond with the abutment teeth.
When Should You See Your Dentist for a Lost Bridge?
Ideally, you should call your emergency dentist right after your bridge falls out. Unnecessarily postponing care could result in significant damage to your abutment teeth. Also, keep in mind that your bridge was a placeholder that prevented other teeth from drifting into the space left by your missing tooth. In its absence, that dental drift could start to occur and cause your teeth to become misaligned. Going for an extended period of time without any form of tooth replacement could even result in further tooth loss.
Protecting Your Bridge and Your Oral Health
There are a few steps you should take prior to your emergency dental appointment:
Properly store your bridge. Rinse off any debris, and place it in a protective container. A Ziploc bag or Tupperware container should work fine. Be sure to bring your bridge with you to your appointment; your dentist might be able to recement it onto your abutment teeth.
Be careful about what you eat. Your abutment teeth may be quite sensitive, so try not to chew with them. Avoiding hard, crunchy, hot, and cold foods is also a good idea.
Maintain a clean mouth. You should continue brushing and flossing even after your bridge falls out. Just make sure that you are gentle around your abutment teeth.
A lost dental bridge is an emergency! Taking prompt action could protect your oral hygiene and allow you to get your smile back on track ASAP.
Meet the Practice
The large team of dentists and specialists at New Haven Dental Group in Woodbridge offer a broad range of services, including emergency care. We are often able to accept urgent cases on a same-day basis. If you lose a dental restoration or have other concerns about your oral health, we are ready to serve you! Contact us at 203-409-2535.