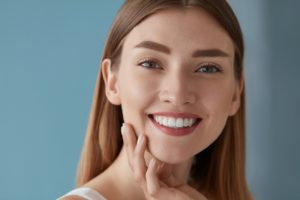 A bright, white smile is always in style! Unfortunately, though, dental stains are a normal consequence of consuming things like red wine, coffee, and highly pigmented foods. Over-the-counter products can get rid of some surface stains, but professional treatments tend to be much more effective. If you are interested in brightening up your smile, visit our practice — for a limited time, new patients are eligible for FREE whitening in Woodbridge. Continue reading this brief article to learn more about this promotion.
How to Get Free Whitening
If you would like a free professional teeth whitening kit, call us to schedule your first cleaning and checkup with our skilled team. Let us know that you are interested in our promotion, and we will get your appointment on the books.
When you arrive at our practice, you will receive a warm welcome before we escort you farther into our office. We will capture some X-Rays, perform an examination, and let you know about any oral health concerns that we notice. If you require any further care, such as a filling or other restorative services, we will discuss our treatment recommendations with you.
Your appointment will also include some time with one of our talented hygienists. They will use special instruments to remove tartar and plaque from your teeth. They will also floss between your teeth and provide personalized tips for at-home oral care.
At the conclusion of your appointment, we will give you a professional whitening kit at no extra charge. If you carefully follow the kit's provided directions, you can expect your teeth to become several shades brighter within just two weeks or so.
Important Details about Our Free Whitening Promotion
Here are a few key details to keep in mind about our promotion:
It is limited to new patients. Although we love our existing family of patients, our free whitening promotion is limited to those who have not enjoyed our top-quality care before.
You must attend a cleaning and checkup. Cancellations, no-shows, and complimentary consultations are not eligible for free whitening.
Your appointment should be paid for in full. If you wish, you may combine our free whitening offer with our normal new patient special, which provides a large discount on an exam, cleaning, and X-Rays.
Not everyone should whiten their teeth. Certain oral health conditions make it unwise for a person to use whitening products. If that is true of you, you might become eligible for cosmetic services after some restorative treatment.
Our free whitening promotion has a deadline. This offer expires on July 31, 2022. Appointment slots can fill up fast, so we recommend that you call us to book a visit and secure your spot ASAP.
A brighter smile does not have to cost a lot. Thanks to New Haven Dental's summer promotion, you can get a FREE professional whitening kit!
Meet the Practice
New Haven Dental in Woodbridge is proud to provide a wide range of general and cosmetic dentistry services, including teeth whitening, preventive care, restorative treatments, and more. To learn more about us and how we may be able to help you save money on top-quality dentistry, contact us at 203-409-2535.