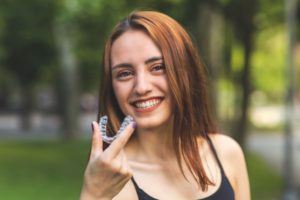 If you wore braces in the past, you were likely delighted when they were finally removed and you could begin to enjoy your healthier, straighter smile. Now, though, have you noticed that your teeth have started to drift out of place? This can happen due to tooth loss, inconsistent retainer use, and other factors. If you do not want to correct your teeth with brackets and wires, you may be wondering if it is possible to get Invisalign after braces in Woodbridge. For the majority of people, the answer to that question is yes.
Who Is Eligible for Invisalign?
Invisalign is an effective treatment for most adults and teens who struggle with mild to moderate dental misalignment. If you wore braces in the past, it is unlikely that your teeth have drifted far enough out of place that you have severe orthodontic problems. The chances are good that you can use Invisalign to move your teeth back to where they belong.
Of course, you cannot be certain that Invisalign is right for you until you visit a qualified provider. After they assess the positioning of your teeth and learn a bit about your circumstances, they will be able to let you know about all of your treatment options.
Why Choose Invisalign for Orthodontic Retreatment?
When you choose Invisalign to get your teeth back into alignment, you can expect a different experience than what you went through with braces. Here are a few things you can look forward to:
Removability. Whereas traditional braces are always on the teeth, Invisalign is easy to remove. Therefore, you can take out your aligners at mealtimes and enjoy virtually any food. The aligners' removability also makes it easy to maintain a clean mouth.
Discretion. Invisalign aligners are constructed out of clear plastic. While they are not completely Invisible, they are much less noticeable than metal brackets and wires.
Fast treatment. Invisalign checkups usually take just a few minutes. Plus, you may enjoy a relatively short overall treatment time.
What to Expect with Invisalign
While Invisalign offers some noteworthy advantages over braces, there are still a few things you should know before you commit to it. For example, a degree of self-discipline is necessary; you will have to wear your aligners for 20 – 22 hours each day. Additionally, in many cases, Invisalign has a slightly higher cost than traditional braces. (Many practices offer convenient financing or other deals to make treatment as affordable as possible.)
Using Invisalign as an orthodontic retreatment is a discreet and convenient way to move teeth back into their proper places. Your local Invisalign dentist will be pleased to help you get started on the road to a healthier, straighter smile.
Meet the Practice
New Haven Dental Group in Woodbridge is proud to feature an expansive team of dentists and specialists. Invisalign and traditional braces are both available in our office. If you are concerned about dental misalignment, we would be pleased to consult with you. Contact us at 203-409-2535.