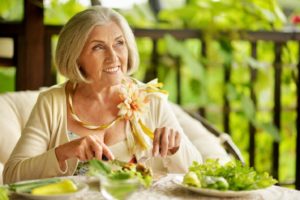 Countless individuals rely on their traditional dentures in Woodbridge to help them eat a wide selection of foods and smile with confidence. While these prosthetics are certainly useful when it comes to eating and aesthetics, they do have some downsides. In fact, research indicates that wearing them might adversely affect your ability to take in adequate nutrition. Continue reading this blog post to discover what that is the case and how dental implants may be able to help.
Nutrition Before and After Dentures
A study from the Regenstrief Institute and Indiana University School of Dentistry looked at data from 10,000 patients with the objective of understanding the effect that traditional dentures can have on nutrition. The researchers analyzed patients' nutritional markers two years before they got dentures and compared them with those same markers two years after the patients started using their prosthetic teeth.
The researchers noticed a significant decline in nutritional markers in the data from after the patients got dentures. Although most of the nutrient markers were still considered to be within the normal range, it is reasonable to think that with long-term denture wear, those markers could continue to decrease.
Why Do Dentures Affect Nutrition?
There are a couple of ways in which dentures may affect nutrition:
Chewing force. Full-mouth dentures may reduce a person's chewing force to just 20 – 25% of what they would be able to enjoy with the full use of their natural teeth. Since denture wearers cannot chew as thoroughly or as easily as they once did, they may be prone to swallow large chunks of food. This can impede proper digestion and inhibit the body's ability to fully extract nutrients from meals and snacks.
Dietary changes. Things like raw veggies and certain meats can be challenging to eat with dentures. Because of this, people with dentures may tend to eat primarily soft foods. If they do not take care to consume an adequate amount of key nutrients, their health may end up suffering.
Finding a Solution
Even if you wear dentures, there are things you may be able to do to improve your nutrition:
Adjust what you eat. You might try incorporating nutrient-rich shakes into your meal plan, such as Ensure or a similar product. You could also try taking some supplements. (Supplements can vary greatly in their quality. Ask your doctor or another qualified professional for advice on which brands are worth your money.)
Consider upgrading to implant dentures. Implant dentures are anchored in the mouth via prosthetic tooth roots. They provide a bite strength that can be up to 90% of what is normal with natural teeth. They can therefore enable you to eat virtually any food, chew it thoroughly, and fully benefit from the nutrients it contains.
Traditional dentures are useful, but they are not perfect. They might affect your nutrition! Fortunately, there are things you can do to address this problem and get all the vitamins and minerals you need to feel your best.
Meet the Practice
The large team of dentists and specialists at New Haven Dental Group in Woodbridge is proud to offer traditional dentures, implant dentures, and many other services. If you have questions or concerns about your oral health, we would be pleased to assist you. Contact us at 203-409-2535.