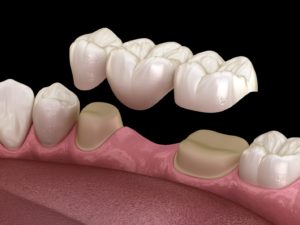 A dental bridge can cost a fair amount of money. It is natural to wonder how many years of use you will get out of your investment in your smile. Your dental bridge's lifespan in Woodbridge will depend on a few different factors. This blog post discusses what some of that factors are. It also provides practical tips on how you can help your restoration to last as long as possible.
The Average Lifespan of Dental Bridges
Dental bridges tend to last for at least 5 – 7 years. However, that is a pretty conservative estimate. Many patients find that their restoration endures for much longer than that. A high-quality bridge that receives proper maintenance is likely to last at least 10 years. Some even last for as long as 30 years.
Factors that Can Affect a Bridge's Lifespan
Here are some factors that will have a bearing on your bridge's lifespan:
Materials. Metal bridges may be slightly more durable than ones made out of tooth-colored materials. However, they are not as aesthetically pleasing.
Your habits. Habits like bruxism, poor oral hygiene, or eating a lot of hard foods may shorten your bridge's lifespan.
The bridge's quality. Receiving care from a highly skilled dental team can increase the chances that your restoration will last for a long time.
The type of bridge. Some bridges are removable, while others are permanently fixed onto the teeth. Fixed bridges may last longer because there is less of a chance that they will get misplaced or damaged.
Help Your Bridge Last
Here are some practical things you can do to help your bridge last for as long as possible:
Care for your oral hygiene. Twice-daily brushing and regular flossing are important. You may need to use a floss threader or another special tool to floss beneath your bridge. This can remove debris from under your restoration and prevent gum irritation and infections.
Visit your dentist regularly. Seeing your dentist every six months or so can allow them to monitor your restoration and address any minor issues with it as they occur.
Protect your bridge from damage. For example, if you grind your teeth at night, you may have to start wearing a mouthguard while you sleep. You should also avoid biting down on hard objects, such as ice, jawbreaker candies, and pen caps.
Consider getting an implant bridge. An implant bridge is anchored in the jawbone. It is stronger than a traditional restoration and may last longer.
A dental bridge may serve you well for decades if you strive to take good care of it. Use the tips in this article to help your restoration endure for the long haul.
Meet the Practice
The general dentists and specialists at New Haven Dental Group in Woodbridge are able to provide many types of bridges, including traditional fixed bridges and implant bridges. They are also pleased to help patients maintain their restorations. To learn more about our practice and how we may be able to serve you, contact us at 203-409-2535.