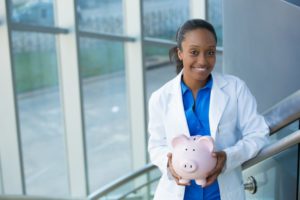 In this economy, everyone is looking for practical and meaningful ways to cut back on their spending. Aside from eating out less and cancelling unnecessary subscriptions, some people are taking more drastic measures to save money. Some people are choosing to skip their routine dental checkups or drop their dental insurance in Woodbridge, which could actually end up costing them more in the long run! Read on to discover how regularly visiting your dentist can actually save you money.
Dental Insurance Covers Preventive Care
The American Dental Association recommends getting a dental checkup every six months, which includes an exam, X-rays, and a thorough cleaning. Typically, the cost of these services will add up to a couple hundred dollars out of pocket. While these twice annual visits may seem like a big expense at first, it's important to keep in mind that you'll likely pay much less if you have dental insurance. In fact, most dental insurance companies cover 100% of the cost of preventive care, and even waive the deductible for routine cleanings and exams.
Regular dental checkups are affordable, and they are designed to dramatically lower your risk of serious oral health issues. This includes problems like gum disease, enamel erosion, and tooth decay. These can all lead to much more expensive issues if left untreated, so preventing them in the first place is a financially smart move!
Early Detection Saves Money
If your dentist discovers any oral health issues during your dental checkup, you should schedule the treatments they recommend as soon as possible. Delaying care, no matter how minor, could allow a small problem worsen to the point where it needs a more extensive procedure.
For instance, a small cavity can often be treated with a simple filling, which may cost one hundred dollars or so. Dental insurance usually provides 80% coverage for fillings, which dramatically lowers your out-of-pocket cost. However, leaving the cavity untreated can lead to a larger area of decay that requires a root canal and dental crown. These treatments are more expensive than fillings, and your dental insurance may only cover 50% of their cost. Getting treatment as early as possible can potentially save you hundreds of dollars!
Your Dentist Wants to Help You Save
Your dentist understands that many patients are currently facing financial challenges. They want to help you get the dental care you need in a way that fits into your budget. Often times, this means they will have options like an in-house discount plan or low-interest financing. You may be surprised to find out how many ways there are for you to save on the cost of your smile!
At first glance, dental care may look like an unnecessary expense. However, the truth of the matter is that investing in your oral health can protect both your smile and your wallet!
About the Practice
New Haven Dental Group is proud to showcase the talents of our team of dentists, specialists, and other team members, each of whom are dedicated to serving the families of Woodbridge and the surrounding communities. We are proud to accept over 200 dental insurance plans, and also offer our in-house savings plan and flexible financing. No matter your situation, our experienced staff will help you get the care you need without breaking the bank. To learn more about us and our financial policies, visit us online or call (203) 409-2535.