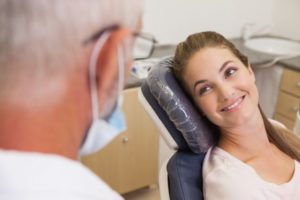 Have you undergone root canal therapy in the past? If so, hopefully the experience was easier than you anticipated. Still, you might hesitate to consent to another root canal — especially if it is for the same tooth that was previously treated! Why do root canals sometimes need to be redone? What can you expect from the retreatment process? Read on below to discover the answers.
Reasons for Root Canal Retreatment
The need for root canal retreatment can arise at any time, even years after the original procedure. It may be necessary due to one of the following reasons:
The Original Root Canal Did Not Completely Clean Out the Tooth
It is difficult — or impossible — for a dentist to see inside a tooth during root canal treatment. Hence, if a tooth has any unexpected anatomical features, some infected or damaged tissue may accidentally get left behind, necessitating retreatment in the future.
This issue does not occur often, and when it does, it is not a reflection of the dentist's skill. It is merely an indication that your case was somewhat challenging.
A Tooth Has Incurred New Damage
In most cases, a crown should be placed on the treated tooth soon after root canal therapy. If the restoration is not secured in a timely manner, bacteria might attack the vulnerable tooth and cause a new infection.
A similar problem can occur if a crown gets damaged or does not fit correctly. Harmful bacteria may be able to sneak beneath it and attack the underlying tissue.
What to Expect During Root Canal Retreatment
Depending on the specifics of your case, your general dentist might perform your endodontic retreatment. If your case is particularly complex, though, you may be referred to a specialist. In either scenario, you can be confident that you are in good hands.
In many ways, root canal retreatment is similar to an initial root canal. First, your dental team will make sure you are comfortable, using local anesthesia and perhaps sedation. Next, they will access the interior chamber of your tooth.
During endodontic retreatment, it is necessary to clean out the filling material (gutta-percha) that was previously placed in the tooth. This can make the procedure take a bit longer than an initial root canal. Once the gutta-percha is removed, your dentist will clean out the infected tissue and fill in the tooth again. They may also place a temporary crown.
Hopefully, your original root canal stands the test of time. If not, you can undergo retreatment with the hope that it will set you up for many more years of healthy smiles.
Meet the Practice
New Haven Dental Group in Woodbridge is home to a number of general dentists and specialists, all of whom work together to provide top-quality care for patients. If you have questions about root canal therapy or endodontic retreatment, they would be pleased to speak with you. Contact them at 203-409-2535.