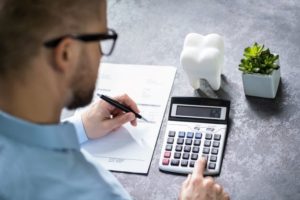 Root canal therapy is often the recommended treatment when a tooth has a serious infection. This procedure can end dental pain, prevent an extraction, and provide other benefits. Still, you might hesitate to commit to it if you are on a tight budget. Is root canal therapy expensive? This blog discusses the factors that influence its cost. You will also learn why it is a smart use of money.
How Much Does Root Canal Therapy Cost?
There is no easy way to answer the question, "How much does a root canal cost?" The price depends on numerous factors, including:
The type and location of the tooth that requires treatment. Root canals for front teeth tend to cost less than treatment for molars. This is because molars have a more complex structure.
The doctor who is performing the procedure. Both general dentists and specialists may offer root canal therapy. If your case is complex enough that you must visit a specialist, you might end up paying slightly more.
Follow-up care. Your dentist will probably recommend that you get a crown to protect your treated tooth. The material used to construct the crown can influence its cost.
Since the price of root canal therapy can vary greatly, you should visit your dentist in order to get a realistic idea of how much this treatment may cost in your specific case.
Is Root Canal Therapy Worth It?
Root canal therapy is a smart use of funds for a few reasons:
It is one of the most effective ways to end a toothache. The procedure involves removing a tooth's nerve. It will become incapable of sending pain signals to your brain.
It can preserve your tooth. When a dental infection is caught early enough, root canal therapy can prevent the need to remove the affected tooth.
It can protect your health. Treating a tooth infection can prevent complications that could affect your overall wellness. In rare cases, individuals have died due to issues that resulted from an untreated dental problem.
The Money-Saving Power of Root Canal Therapy
Some patients choose to get an infected tooth removed because an extraction has a lower upfront cost than root canal therapy. However, it is important to keep in mind that if you remove a tooth, you should get it replaced. Otherwise, you may end up facing further tooth loss and other serious problems. The cost of root canal therapy is often less than that of an extraction combined with tooth replacement.
A root canal might seem like a big expense. The reality, though, is that this treatment is an excellent value that can protect your oral health and save you money in the long run.
Meet the Practice
The team of dentists and specialists at New Haven Dental Group in Woodbridge is proud to offer a full range of restorative treatments, including root canal therapy. We strive to charge fair prices, and we have provisions in place to help patients afford their care. To learn more about us and how we may be able to serve you, get in touch with our office at 203-409-2535.