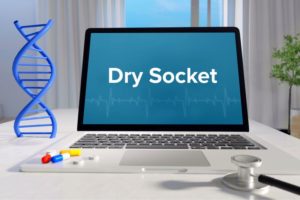 For most people, recovery from a tooth extraction is a smooth process that may take anywhere from a few days to a couple of weeks. Unfortunately, a complication known as dry socket can slow down your healing process and cause a lot of pain. What is dry socket? How can you prevent? Continue reading to discover all the basics about this condition.
What Is Dry Socket?
After a tooth is removed, your body should immediately start to form a blood clot at the extraction site. The clot's purpose is to protect the socket and facilitate your body's natural healing process. Dry socket is the name of the condition that occurs when the blood clot fails to form or gets prematurely dislodged. This problem can cause intense pain, similar to a severe toothache.
The risk of dry socket is at its peak 3 – 5 days after a procedure, though it may happen at any time before the extraction site is completely healed. Dry socket occurs in approximately 2 – 5% of all extraction cases.
Preventing Dry Socket
The possibility of dry socket should not scare you. In most cases, it can be prevented with the implementation of some basic precautions, such as:
Do not use a drinking straw or smoke cigarettes. The suction action could dislodge the blood clot.
Do not touch your extraction site. You might be tempted to touch your extraction site with your fingers or tongue, but doing so could disturb the blood clot.
Be mindful of what you eat. Tough, crunchy foods could damage your blood clot. You should consume a soft diet until your mouth is well-recovered.
Do not brush the extraction site. For at least 3 – 4 days or so, your toothbrush should not directly contact your extraction site. Of course, you should brush the rest of your mouth normally.
Avoid spitting vigorously. Instead, you should swallow extra saliva or use a tissue to absorb it.
What if You Develop Dry Socket?
If you notice severe or unusual pain at your extraction site, or you look in the mirror and see that your extracted tooth's socket looks empty, contact your dentist right away. Treatment for dry socket usually involves cleaning the area and applying a medicated dressing. You might also receive a prescription for pain relievers. If you carefully follow your dentist's instructions, you can expect to be fully recovered within 7 -10 days.
Dry socket can be a painful problem. Fortunately, it is usually easy to prevent, and if it does occur, effective treatments are available.
Meet the Practice
New Haven Dental Group in Woodbridge is home to a large team of dentists and specialists. We proudly offer tooth extractions and many other restorative services. If you are concerned about dry socket or anything else related to your oral health, we are ready to speak with you. Contact our office at 203-409-2535.