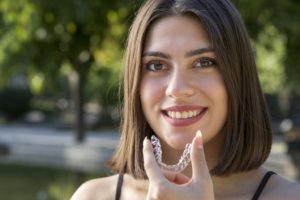 Invisalign treatment has helped millions of people across the U.S. to achieve straighter teeth without the use of braces. Patients love it for its convenience, subtle appearance, and effectiveness. Are you thinking about investing in Invisalign in Woodbridge? Before you embark on your journey, you should familiarize yourself with best practices on how you ought to treat your aligners. In this blog post, we will list some mistakes that you should do your best to avoid.
Not Cleaning Your Aligners
Your aligners will fit snugly against your teeth. The last thing you want is for them to trap harmful bacteria and food particles against your enamel. Not only could this damage your teeth, but your aligners might also take on an unpleasant odor. To avoid such issues, you should clean your aligners every day with the cleaning solution from Invisalign — or you can use clear, mild soap along with a soft toothbrush. You should also rinse your aligners before you put them back into your mouth after a meal.
Neglecting Oral Hygiene
People who are not undergoing orthodontic treatment only need to brush their teeth twice a day. However, Invisalign patients should adhere to stricter oral hygiene standards. You should quickly brush your teeth and use floss to remove any lingering food particles after each meal and snack. If that is not possible, be sure to at least rinse your mouth with water before you put your aligners back in.
Drinking the Wrong Beverages
Most people are diligent abut not eating with Invisalign in their mouth, but they might be tempted to break the rules when it comes to drinking. Whether they want to sip on a soda, a midafternoon coffee, or some fruit juice without removing their aligners, they often end up regretting their decision. That is because the aligners may stain if you drink anything other than plain water while wearing them. Also, keep in mind that very hot beverages might warp the aligners.
Storing the Aligners Improperly
It would be easy to simply set your aligners on the table while you eat meals. However, leaving them out in the open like that leaves them vulnerable to bacterial build up. You should always keep your aligner case with you, and store Invisalign properly whenever it is not in your mouth.
Not Wearing the Aligners Enough
You should wear your aligners for at least 20 – 22 hours each day. That may seem like a lot, but it is the amount of time required to gently reposition your teeth. If for any reason you find it difficult to wear your aligners the recommended about, ask your dentist for suggestions on how you can improve.
Will you use Invisalign to straighten your teeth? Paying attention to the above-listed Invisalign dos and don'ts will contribute to your treatment's success.
Meet the Practice
New Haven Dental Group in Woodbridge is proud to have six on-staff doctors. Together, they work to provide top-quality care to our community. Our team offers both traditional braces and Invisalign, and we would be happy to answer your questions about how you can achieve straighter teeth. Contact us today at 203-389-7080.